Dani owns and operates Aspire Eventing in Larkspur, Colorado on 37 pristine acres. Dani started riding at the age of six and joined the United States Pony Club at the age of nine. She successfully became an 'A' rated graduate in Pony Club and thus began her passion for Three-Day Eventing.
In 2003, Dani began working for and competing with Amy Tryon, two-time Olympian, Olympic Bronze Medalist, and World Equestrian Game Team Gold Medalist, in Duvall, Washington. She travelled extensively with Amy both as her groom and also as a fellow Eventing competitor.
Dani has been professionally training and teaching all levels of horses and riders for over 15 years. She started her professional career in Northern California with Aspire Eventing and also joined Full Circle Training. She then moved to Washington State, where she taught at Mapleleaf Eventing and was the head trainer at Elite Dressage Sales, a German warmblood import and sales barn. In addition, she trained ponies at Thumbs Up Farm and Red Gate Farm for hunter/jumper competitions.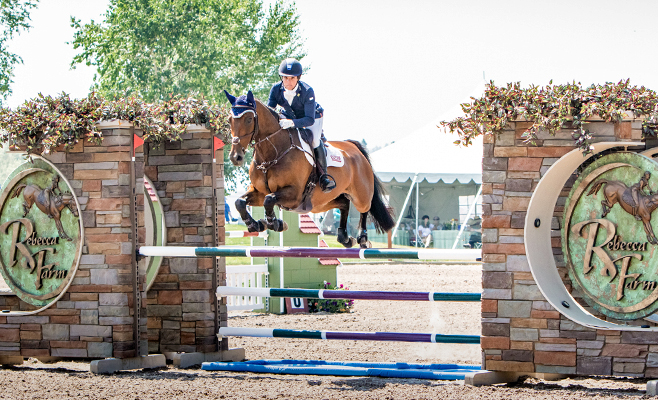 Dani's primary passion is Eventing. She travels around the country competing both her horses and as well as her clients' horses, and encourages her clients to also compete to gain priceless experiences. While at home in Colorado, in addition to the Events, Dani also competes in local rated dressage and hunter/jumper shows.
Along with her extensive equestrian resume, Dani has a Bachelor of Science in Chemical Engineering from the University of Colorado and graduate certificate from UC Davis in Winemaking.
Career Highlights
2022
Completion, CCI 4*-s Chatthills (Jos Bravio)
8th place, Advanced at Pine Top (Jos Bravio)
3rd place, The Event at Rebecca Farm 4*L (Jos Bravio)
2021
5th Place, Maryland 5 Star at Fair Hill CCI3-L (Jos Bravio)
4th Place, The Event at Rebecca Farm, CCI3-L (Jos Bravio)
3rd Place, Aspen Farms H.T., CCI3-S (Jos Bravio)
10th Place, Carolina International CCI and H.T. CCI3-S (Jos Bravio)
7th Place, Rocking Horse Winter III H.T., Open Intermediate (Jos Bravio)
9th Place, Rocking Horse Winter II Advanced H.T., Intermediate Rider (Jos Bravio)
9th Place, Ocala Winter I Horse Trials, Open Preliminary, (Jos Bravio)
2020
6th Place, Tryon International 3-Day Event, CCI2-L (Jos Bravio)
9th Place, Tryon International 3-Day Event, Open Preliminary (Winter Step)
10th Place, Holly Hill H.T., Open Preliminary (Jos Bravio)
1st Place, Spring Gulch H.T., Open Preliminary (Jos Bravio)
5th Place, Spring Gulch H.T., Open Preliminary (Jos Bravio)
2019
3rd Place, Colorado Horse Park Open Preliminary (Thurston B Howell)
8th Place, Colorado Horse Park Open Preliminary (Bellissima)
7th Place, Colorado Horse Park Beginner Novice (Film Shot)
2nd Place, Spring Gulch Preliminary (Bellissima)
1st Place, The Event at Skyline Preliminary (Bellissima)
5th Place, Rocking Horse III Training Horse (Windchase Radiance)
4th Place, Rocking Horse II Training Horse (Bellissima)
6th Place, Ocala Winter H.T. Training Horse (Windchase Radiance)
2018
4th Place, American Eventing Championships Novice Horse (Bellissima)
2nd Place, The Event at Archer Training (Bellissima)
1st Place, The Event at Archer Novice (Bellissima)
2nd Place, Virginia YEH 5-Year-Old (Bellissima)
7th Place, Holly Hill Spring H.T. Intermediate (Thurston B Howell)
6th Place, Rocking Horse III H.T. Intermediate (Thurston B Howell)
2017
13th Place, Hagyard Midsouth CCI2*-L (Thurston B Howell)
1st Place, Colorado Horse Park Preliminary (Thurston B Howell)
2nd Place, Colorado Horse Park CCI2*-L (Thurston B Howell)
2nd Place, CCC Spring Gulch H.T. Preliminary (Thurston B Howell)
2016
5th Place, Woodside International Horse Trials Preliminary (Thurston B Howell)
1st Place, Colorado Horse Park Horse Trials Open Intermediate (Howard County Hank)
1st Place, Colorado Horse Park Horse Trials Open Preliminary (Thurston B Howell)
4th Place, Colorado Horse Park Horse Trials Preliminary (Thurston B Howell)
Top 15, The Event at Rebecca Farm CCI2*-L (Howard County Hank)
2nd Place, The Event at Rebecca Farm Training (Thurston B Howell)
Top 15, Colorado Horse Park CCI2*-L (Howard County Hank)
1st Place, CCC Spring Gulch HT Preliminary (Howard County Hank)
8th Place, Poplar Place CCI2*-S (Howard County Hank)
2015
1st Place, The Event at Rebecca Farm Open Intermediate (Kaptain America)
1st Place, Fountain Valley Dressage, Second Level Test 3 and High Score (Kaptain America)
3rd Place, Copper Meadows Horse Trials Open Intermediate (Kaptain America)
6th Place, Twin Rivers Winter Horse Trials Open Intermediate (Kaptain America)
2014
5th Place, American Eventing Championships Preliminary Horse (Kaptain America)
6th Place, Rebecca Farm CCI2*-L (Kaptain America)
1st Place, Colorado Horse Park Open Preliminary (Kaptain America)
1st Place, The Event at Galisteo Open Preliminary (Kaptain America)
2013
1st Place, Colorado Horse Park Open Preliminary (Folsum)
4th Place, Coconino Horse Trials Open Preliminary (Folsum)
2003 – 1998
Trained with two-time Olympian, Olympic Bronze Medalist, and World Equestrian Game Team Gold Medalist, Amy Tryon, from 2003-2008
3rd Place, North American Young Rider Championships CCI2*-L (Rasta Mon)
Clinic with Captain Mark Phillips, David and Karen O'Conner, and George Morris